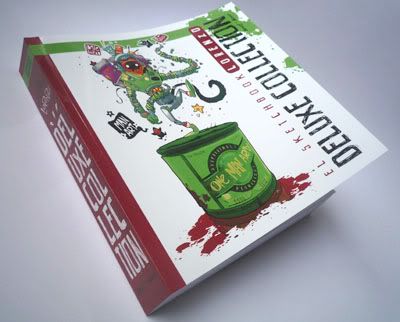 I don't blog much these days, and i rarely blog about other artists, because I'm a bitter and self-absorbed barking hermit. But i managed to blag myself a copy of Lorenzo Etherington's DELUXE COLLECTION sketchbook, and i really HAVE to show this to you. It is, quite simply, one of the most beautiful books I've ever seen.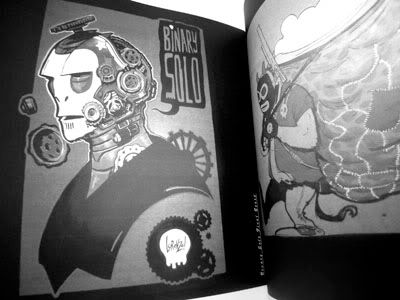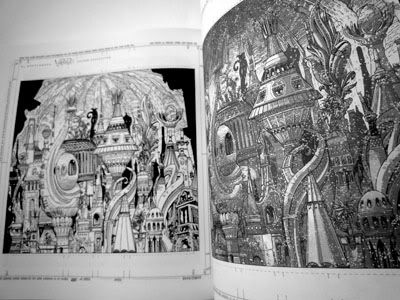 I've been lucky enough to know The Etherington Brothers (Lorenzo draws, Bob writes) for about 5 years. We've got drunk together, worked for The DFC together, they contributed to my Fat Chunk anthology and i'd consider them the nicest two men working in comics today. But more than that, they're so sickeningly talented it makes you want to give up drawing and live in an upturned canoe. The stories Bob weaves and Lorenzo makes flesh are so wonderfully realised, so exhilerating, it's the kind of stuff that makes you glad you discovered comics. And yet, they're not absolutely massive. They've built a large following with their self-published comics, and do comics for some big names like Dreamworks, but it always seemed they're deserving of so much more.





Fact is, prolific doesn't cover them. The sheer scale of work they've produced is mind-blowing, as this 600 page tome will testify. Lorenzo's work has always been intricate and complex, yet running along smooth fluid lines, and every page of this book is crammed full of such high quality work it's almost unnerving. For me, the beauty in Lorenzo's work has always been in the details, the clickywidgets, the fumblywotsits, the cogs and wires and springs and decorations tailoring each drawing, the kind of thing any other artist really struggles to throw out so freely.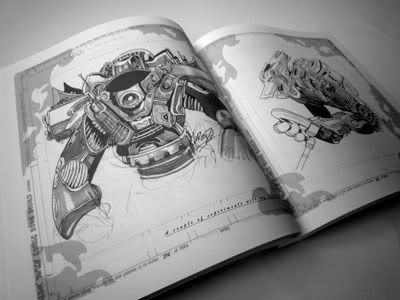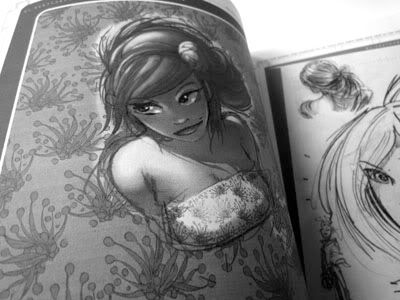 So this is why I'm showing it off here, with a select few hasty photos, and a gushing recommendation. You need to buy this book, it's just stunning. And an inspiration to the rest of us to pull our socks up and work even harder.




The DELUXE COLLECTION will be available at the Bristol Con (UK), and Lorenzo will even sketch in it for ya. And after that it will be on sale everywhere, so do keep checking the Etherington blog HERE. And then badger them into getting facebook and twitter accounts, so we can all be kept up to date :p

ps. as a little addendum, i cheekily suggested to Lorenzo he could sketch a Looshkin in my copy of the book. Talk about going above and beyond, check this lot out!




I think pretty much everything i've drawn! (even some i dont remember). Chaffy, Loosh, Whubble, Kochi, Genie, Whubble, FishHead Steve, etc etc. Proper wonderful ^_^